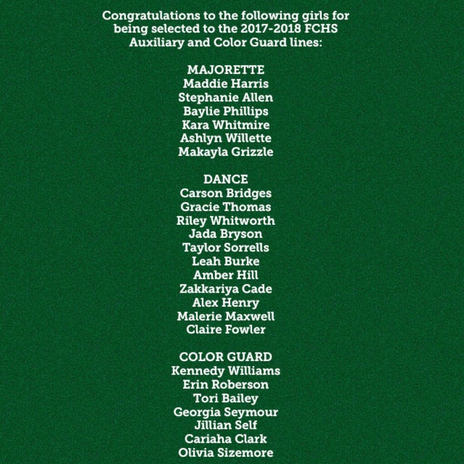 We had an unprecedented 7 students make District Honor Band. Approximately 600 auditioned while approximately 180 actually make the two bands. It is comprised of top students from 25+ schools in 14 counties that make up District 14 of the Georgia Music Educators Association. The students will perform in concert at the Riverside Military Academy in Gainesville in Mid-February. Please congratulate them.
Emma Maffett - Clarinet
Autumn Stroud - Clarinet
Carlie Roland - Horn
Olivia Kesler - Clarinet
Rachel Brown - Clarinet
Cameron Poole - Tenor Saxophone
Truman Maffett - Trombone
​

Also,approximately 18000 auditioned this past Saturday across the State for the GA All-State Band. Of that, around 1500 are invited based solely on their audition score to another round of auditions that is held at Houston County HS (south of Macon) in early January. From those audition scores, less than 600 are selected from the original 18000 to comprise multiple GA All-State Bands. It is an incredible honor to make it to the 2nd Round and have a chance to participate with other top band students across the state. Please congratulate the following students for achieving such distinction:
​
Emma Maffett - Clarinet
Tyler White - Bari Saxophone
Truman Maffett - Trombone


​

​Visit

franklinbands.blogspot.com

to download the 2016 FCHS Marching Band's show music.

Alternatively, use the button below to preview and download the music.


​​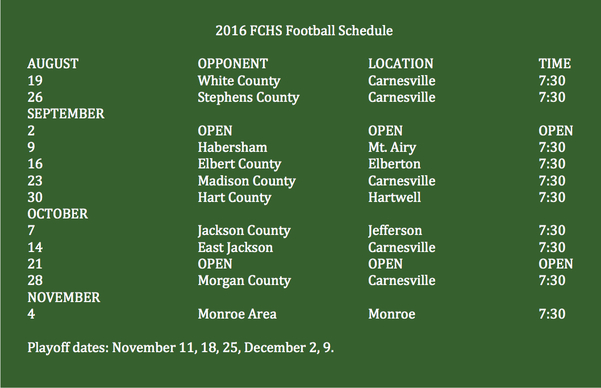 You're not prepared for band camp until you have one of these!


There are different ways to submit pictures of the band/auxiliary. You can-
email them to fchsbandpics@gmail.com
or
send in a private message through the band FB page https://www.facebook.com/fchsbands.

(We will include as many pictures as possible in the End-of-the-Year slideshow, but no guarantees can be made that all submitted pictures will be used.)

---

Please use the instruction below to complete the Mandated Reporter Module of the Compliance Director if you have been asked to do so.

What's Happening on Social Media?